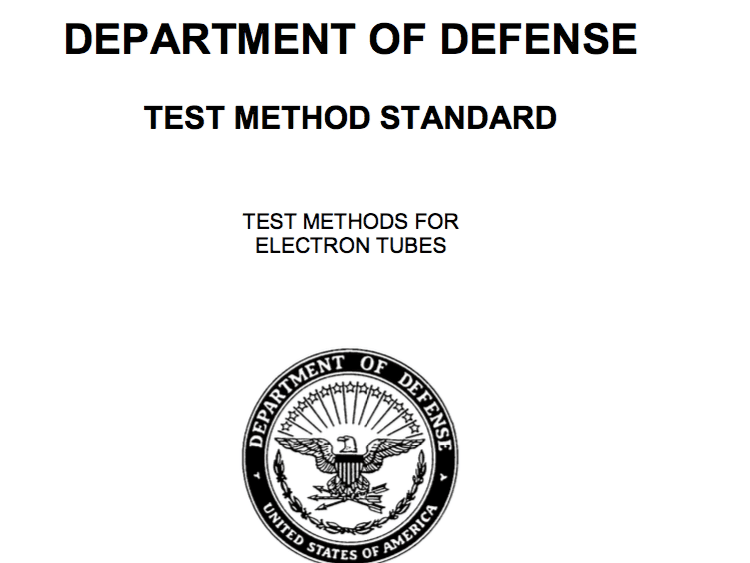 Do you often wonder what quality standards are applied when testing your valves? You want to make sure you  buy the best quality and this article explains reliable Russian valves.
Valves are old technology – the 6L6 dates back to 1937 !  The 300B back to the 1920's !
The military still uses valves in many systems so it is critical that the valves are well tested to weed out the duds.
Valves have a lot of manual labour involved. when you had humans you add the chances of human error. None of us are perfect.
The American department of Defense has always had a specification for quality and testing of valves. In their specifications they are called "Electron Tubes".
The factory that makes our Russian valves follows the US Department of Defense testing standards. This covers EHX, Genalex, Sovtek and Tung Sol.
The actual standard is a 400 page document called Mil-STD 1311 and it defines all the test methods. The Saratov factory follows the methods defined in this  400 page document.  The Saratov factory focused on military valves in the days of the USSR so it is totally at home home following this American specification. This is not some ancient specification but is kept up to date.  The last revision to this specification was made in January 2011. By military standards this is very up to date!
The American Department of Defense have developed these valve test methods over decades and they know  that it results in the best product in their demanding environments.
When it comes to fitting in amps, it means a very reliable product for you.
Interestingly, the military who seek the best reliability  – have no mention of cryo treating or any of the fancy tests that are offered by some valve sellers.  Nothing beats top quality testing of the products at the factory. These tests also include pulse testing of the valves with bursts of signal. This puts the valve under stress and is a good way to weed out weak valves before you ever see them.
We test all the valves we sell just to make sure they have survived the trip form Russia to the UK. You can buy EHX, Genalex Gold Lion, Sovtek and Tung Sol valves knowing you are getting a very reliable product.
I can email you a copy of this massive military testing specification if you ever become bored watching paint dry 🙂