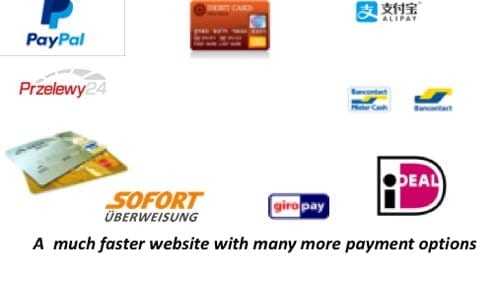 We have been busy working on our website. Key updates are website response times and improved payment options  in the UK, Europe and in Asia Pacific.
We have improved our payments system to give you a lot more choice in ways to pay us.  Our website will automatically present your payment options according to where you are located
These new payment options are in addition to Paypal. In every country you can pay by Visa and Mastercard Debit and Credit cards and here are additional payment methods for specific countries
UK 
American Express
Germany Austria Belgium
SOFORT
GIROPAY – Germany
BANCONTACT – Belgium
Netherlands
iDEAL
Poland
Przelewy 24
China and Malaysia
Alipay
We want to make it as easy for you to pay us and now we offer many convenient options.
We previously only offered Paypal and this was difficult  in some countries. It is also much better now if you do not have a Paypal account.
Our  website has had significant work done to improve its response times
Over the next few days you will see our site responding much faster. We don't want you to wait for pages to load.
All of this was done to make it easier for you, our customers.
Also we have added an opt in at checkout if you would like to leave feedback for us.
So why not go have a browse and see what is on offer now that we have the website updated ? Check out all the categories by clicking here
We have valves and valve kits, for music amps, jukeboxes and Hi-Fi.
Ee are official distributors for EHX, Genalex Gold Lion, JJ Electronic, Sovtek and Tung Sol valves. We 100% test every valve we sell . We offer 120 days warranty on all valves.
Our valve selection has expanded.  We have matched sets of output valves including less common types. These are used in Juke Boxes, Hifi amps, and some of the less common music amps.  We believe we are the first company to offer a high sag version of the  JJ GZ34.  We developed the test methods working along with a boutique amp manufacturer in the UK. Customers love this version.  We also have a focused range of Electro-Harmonix guitar pedals.