There are many different types of ECC83 / 12AX7 in the market. There are not only different manufacturers but also different variants such as the 5751, 12AY7. So you might be asking where how can I figure out what the differences are?
I have written a couple of short articles on this subject already and these touched on this topic. This article is an attempt to try and put all the information in one place.
Your amplifier sound obviously is the result of how it was designed, but, other factors come into play. The pre-amp valves do have an important influence on the amp sound and this is due to the specific valve type and its internal structure. All these different types are designed to have different gain. The good new is that you have to chance to modify the sound ad find the best fit for your playing style just by selecting the right pre-amp valves. We can give advice and general guidelines but it comes down to listening in your amp. It is worth considering buying two or three types and seeing what you like best. This is how amp tech's make your amp sound great. They try out what the best mix of pre-amp valves to get the sound you need and want.
Lets take a look at some of the different types
Sovtek makes four different types and these are the 12AX7WA/WB/WC. Many amp companies use these in their production lines and they get re-branded with all sorts of different names. These tubes are frequently found as OEM tubes in many different brands of amplifiers. The 12AX7WB has about 6% more gain than the 12AX7WA and a slightly darker sound signature, which is great for smoothing out harsh sounding amplifiers.
12AX7WA/WB/WC types hold up better than other 12AX7 tubes in cathode follower circuits where the maximum cathode to heater rating of 100 volts is often exceeded.
The 12AX7WC has closely matched sections making it ideal for phase inverter circuits. The 12AX7WC also has a spiral wound heater which minimises mains hum coupling into the cathode from the heater in amps where the heater circuit is AC volts.
The 12AX7WA is a medium gain valve and was the valve targeted for many Fender Amps. Fender re-branded this valve and called it the Groove Tubes 12AX7. Folks should use these in amps such as the Fender Hot Rod Deluxe. DeVille because replacing the originally fitted valves with the higher gain standard ones makes the amp volume setting a bit tricky
The Sovtek 12AX7LPS has a large plate format that gives a large soundstage with a lot of detail. The 12AX7LPS also has a spiral filament for reduction of heater to cathode induced hum in amplifiers with AC powered heaters. This valve has a lot of headroom too so it is good for phase splitter sockets
The Electro-Harmonix 12AX7EH is a high-gain, low noise type with a short plate format for reduction of microphonics in high gain amplifiers. It also features the spiral filament for hum reduction. It has a spiral wound heater
The reissue Tung-Sol 12AX7 has the highest gain of all of the 12AX7 types. It has a very full and musical sound signature. This is an excellent valve to improve the sound of bland and thin sounding amplifiers. In my experience it really enriches the mid tones. It has a spiral heater.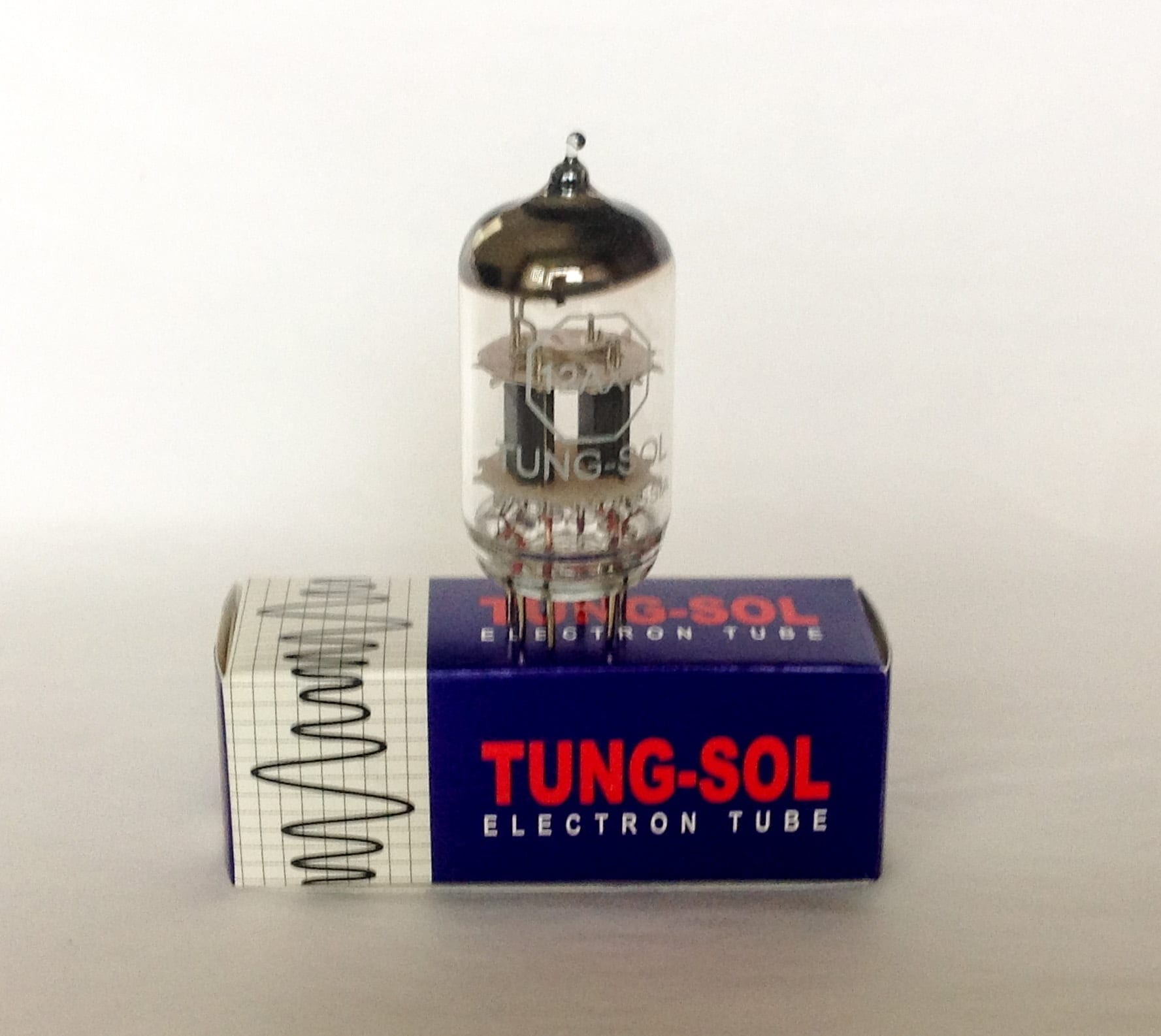 The ECC83S (12AX7) from JJ is a very low noise. It is a high gain valve and has short plates. Spiral wound heater. to my ears it is thinner sounding than the Russian valves. Makes it good for getting that early 60's soon dout of Vox AC 15 and 30's
The JJ ECC803S is a large plate version and has a richer mid and bass tone. Doenside of large plate valves is that they are much more prone to microphonics
The 5751 is a special version with 70% of the gain of a normal 12AX7. This valve has low microphonics and is useful for lowering the gain of an amplifier to provide a clean tone. A useful valve to calm down amps such as the Fender Hot Rod Delux where the volume control is " all or nothing " with an all 12AX7 line-up
The 12AY7/6072A is another valve that is useful in lowering the gain of an amplifier. It has 44% of the gain of a 12AX7 with a higher transconductance making it more touch sensitive. 12AY7 tubes were frequently used as the first preamp tube in most Tweed-Era Fender amplifiers.
The most exclusive ECC83 12AX7 type is the Genalex Gold Lion ECC83. The Original Genalex Gold Lion ECC83/B759 tubes are considered among the best ECC83 / 12AX7 types ever made. . They exhibit a large detailed soundstage that is sought after by discerning audiophiles who demand the highest quality sound. This valve successfully re-creates the sonic qualities of the original using the design methodolies of the original Marconi-Osram design.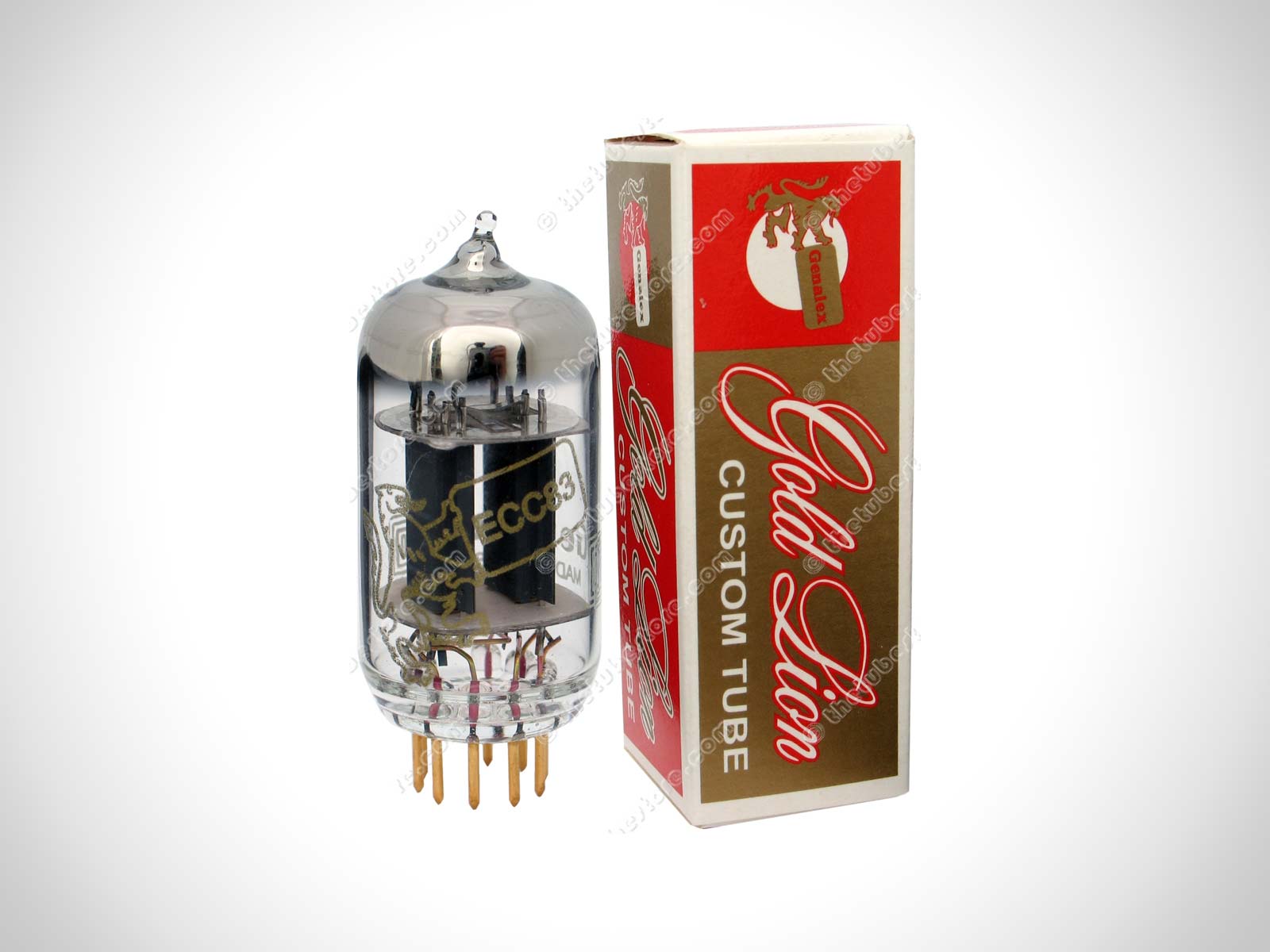 A newly introduced, actually it is a re-introduction of a type that went out of production by the 1980's . It is the 7025.. It has a spiral heater but is also selected for very low noise and low microphonics. Electro Harmonix re-introduced this valve in early 2020. It is the 7025EH. Excellent valve for high gain amps in the V1 position. Fender's amps in the 1960's and 1970's were deigned to use the 7025 on the first stages and now you can return your amp to the proper valve/tube line
It is worth mentioning that you might read on some forums that you can reduce the gain of your amp by swapping out the ECC83/12AX7 for an ECC81/12AT7. The 12AT7 type has 10 times the anode current of a 12AX7 and so the voltage drop across the anode resistors is 10 times more resulting in the 12AT7 being starved of volts. You will end end up with a rotten sounding amp unless by chance it happens to work and even then it will sound much worse than fitting a 5751.
We also sell a good number of these in multi packs to save your hard earned cash
There is a lot choice and hopefully this helps you out. GO check out the links on this page and read more.
We are always happy to give advice so email or call us !